Notes
1. If you pay from verified paypal account, we may call you during 10:00-22:30 GMT+8 to verify your first order. If we do not get your phone number in 3 hours or you pay from unverified paypal account or payment is doubtful, we may full refund ASAP.

2. Dedicated VPN/IP is fixed, unique, and used exclusively by you in one month.

3. Account could still work when premium traffic is exceeded. However the speed may be restricted when server is busy.

4. If any questions, please visit FAQ first, then contact with our online support.





FAQ

Q: Is any client software required to run your VPN?
A: We support 3 VPN modes: L2TP over IPSec VPN, PPTP VPN, SSL VPN (OpenVPN).
A. Windows 10/11/Mac OS X/iPhone/iPad support L2TP over IPSec VPN directly. No additional client software is required.
A: Windows XP/Vista/7/8/8.1 support PPTP VPN directly. No additional client software is required. Please click here for step-by-step guides.
A: For Linux/FreeBSD/NetBSD/OpenBSD, click here to connect as PPTP VPN.
A: On 3G/4G/CDMA/Wireless/LAN or other restricted Internet, you may also connect with SSL VPN mode. Please click here to connect with VPNm2 software package.

Q: Can I use your VPN instead of my current ISP connection?
A: No, you need regular internet connection to be able to use VPN service.

Q: What ports should be open on firewall/router for it to work?
A: No ports should be open.
A: For PPTP VPN, your firewall/router/ISP must allow VPN/PPTP passthrough. Typical working: embeded Microsoft firewall in Windows, Linksys/D-Link/TP-Link/ASUA Router manufactured after year 2007, ADSL broadband. Typical not-working: not-Microsoft firewall, Netgear/Trend Router, all router-integrated ADSL modem, upgraded NOD32 anti-virus software. Error 619 or error 721 means some of your software or device do not support it.
A: No above restrictions for SSL VPN mode. You may connect with VPNm2 client software to bypass above problem.

Q: Is your VPN encrypted?
A: We offer both encrypted and not-encrypted VPN. Default mode is 128bits encrypted. However you may request not-encrypted for higher performance or to use on old windows versions.

Q: What is the difference between Dedicated IP/Static IP/Dynamic IP?
A: Dedicated IP(Dedicated VPN) is static and exclusive used by you. Static IP(Shared VPN, Static VPN, Shared IP) means your ip will not change whenever you connect to vpn. Dynamic IP(Dynamic VPN, Random IP) means that you will get a random ip from fixed 8/16/32 IPs each time when you connect to vpn. All these ips are anonymous.

Q: How much dedicated IPs may I order?
A: Number of your dedicated IPs should not exceed Max IPs of your vpn accounts. If exceeded, you have to order "Change IP" service instead of "Add IP".

Q: How about delivery time and usuage time?
A: Delivery time and usage time are all caculated from the time of your payments are accepted. For example, if you order on 2012.01.05, you could connect your account from 2012.01.05 to 10AM GMT+8, 2012.02.04 .


Initial setup of your VPN account (one-time only)

Step01. Click "Start" on the left bottom. Then Click "Network Connections".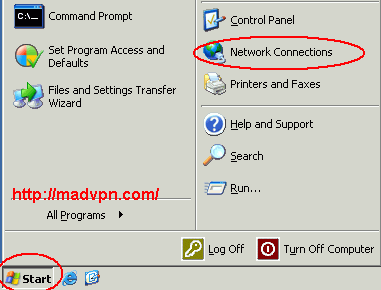 Step02. Click "Create a new connection" on the top left.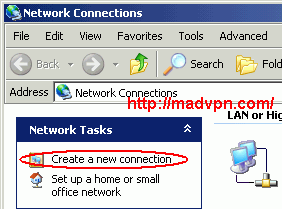 Step03. Click "Next >".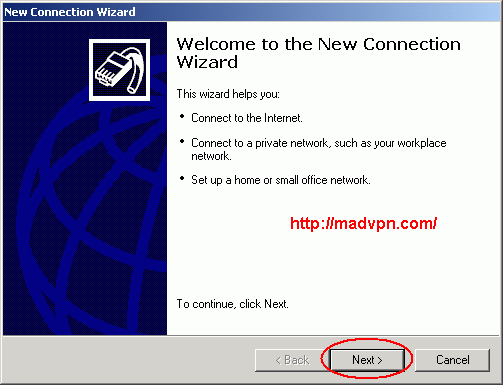 Step04. Select "Connect to the network at my workplace". Click "Next >".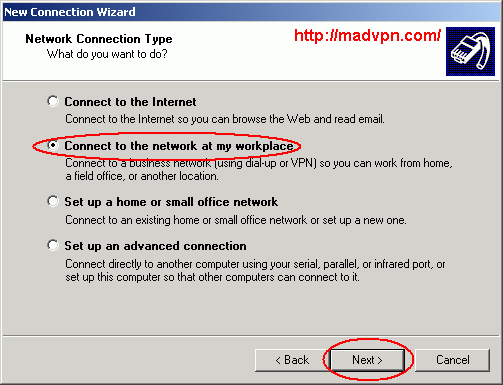 Step05. Select "Virtual Private Network connection". Click "Next >".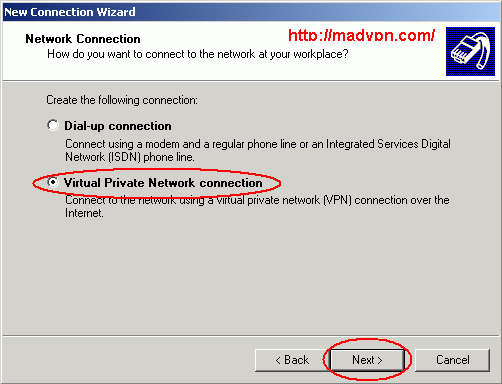 Step06. Enter a connection name, such as "madvpn", in "Company Name". Click "Next >".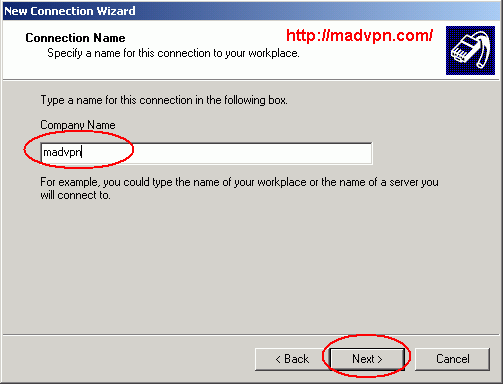 Step07. (Optional) Select "Do not dial the initial connection". Click "Next >".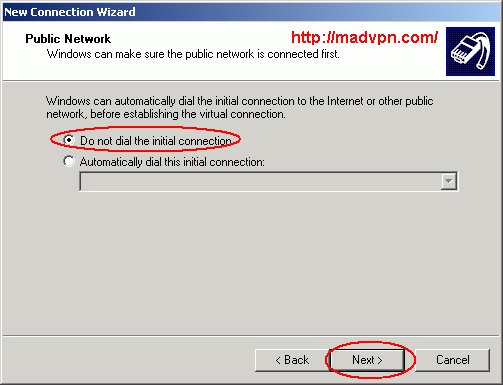 Step08. Enter "server ip" of your VPN account in "Host name or IP address". Click "Next >". Please enter assigned IP, instead of 69.1.1.1, which is only for example.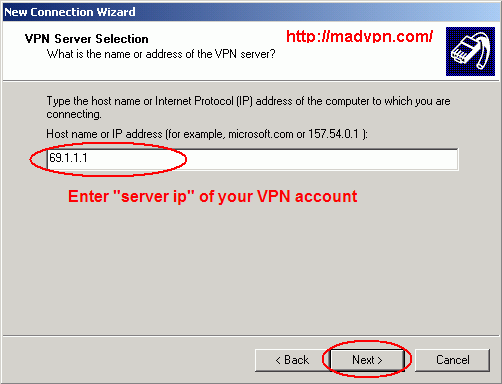 Step09. Select "Add a shortcut to this connection to my desktop" to enable fast access to vpn. Click "Next >".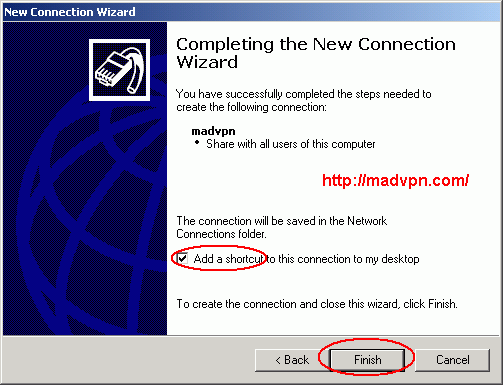 Step10. Enter "User name" and "Password" of your vpn account. Select "Save this user name and password for the following users" to simplify connection. Click "Properties".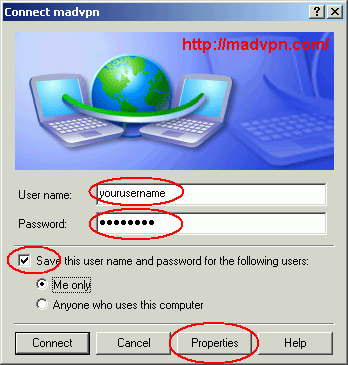 Step11. Click "Connect". It works :)